Hiring the right roofer for your home
Your home is your largest investment. Replacing your roof is an extremely important part of protecting your home. Not to mention that a new roof is an investment in your home. An investment that likely has a 100% cost recovery when it comes time to sell your home.
Finding a reliable roofing contractor in Louisville, Kentucky to trust your home to is no small task.
We always recommend getting a few bids from different roofing companies to make sure you're getting a fair deal. When you begin comparing bids and companies, you'll want to give consideration to the certifications your roofing contractor has obtained.
In addition to licenses required by the city, roofers can have various mastery certifications. These certifications are typically awarded by roofing material manufacturers. Top-tier certificates (which we'll explain more about below) can take years, and hundreds of hours to earn.
Certifications should be heavily considered in your decision-making process, as it shows that the roofer has superior craftsmanship and they are able to offer much longer and more encompassing warranties.
State Licenses & Insurance
In the state of Kentucky, General Contractors and Roofers are licensed on a city/municipality level, rather than a state level.
So, when you hire a roofing contractor in Kentucky, their license will be from the city or municipality they are operating in. The amount of general liability insurance (and any other insurance types) they will be required to carry will vary by city.
We recommend making sure that your roofing contractor carries General Liability, Worker's Compensation, and Vehicle Insurance. If your roofer has these three types of insurance policies, you will be covered in the event your home is damaged, if someone gets injured during the process or if a vehicle gets damaged. Because of the unique dangers associated with the roofing process, it's important to make sure your contractor is covered with each one of these policies.
Hiring an unlicensed and/or uninsured contractor is not a good idea. These contractors usually perform substandard work and homeowners have little recourse if something goes wrong. These operating requirements are put in place to protect homeowners.
Mastery Certificates
These certificates can sometimes be overlooked and disregarded as a marketing ploy. And honestly, some of them are.
However, top-tier certifications are only awarded to roofing companies that have undergone rigorous training processes and job site inspections, hold insurance policies that go beyond what is required, and have shown years of expert craftsmanship.
Top-tier certifications acknowledge the expertise of the roofing company. The materials manufacturer feels so strongly about the craftsmanship of the roofing company that they allow them to offer upgraded warranties to their customers. These warranties are valid even if the roofing company should go out of business.
How do you sort between entry-level and mastery-level certifications? Below we'll break down two major roofing material brands and the certifications they offer.
GAF Certifications
GAF is the leading roof materials manufacturer in North America. In fact, more homes and businesses in the U.S. are protected by a GAF roof than any other product. We'll explain the different levels of GAF certifications below. It should be noted that GAF certifications cannot be bought and are not met by selling requirements. Rather, these certifications are earned by meeting rigorous standards set forth by GAF.
GAF offers three levels that come with various warranties:
Authorized (non-certified) Contractor
This is any contractor that is authorized to sell GAF products. There is no additional training or inspections performed by GAF. At this level, GAF does not verify their customer track record or licenses. Nor is this designation associated with any extra training or installation inspections.
Certified™ Contractor
Only 7% of companies in North America are GAF Certified™. All contractors with this designation are independently verified to meet and exceed all local licensing and insurance requirements. Additionally, they have to have a minimum of three years of experience as a roofing contractor.
MasterElite Contractor
The MasterElite certification is the highest recognition offered by GAF. Only 2% of roofers in North America are invited to become GAF MasterElite certified. Meaning out of 100 roofers in Louisville, only 2 of those could be MasterElite Certified.
In order to receive this certification, a roofing contractor must have been in business for a minimum of seven years, Additionally, they must undergo yearly training and be in good standing with the Better Business Bureau and have exceptional customer reviews.
MasterElite Contractors can offer Golden Pledge and System Plus Warranty. These warranties together provide 100% material defect coverage on the entire roofing system for 50 years plus 25-year workmanship warranties. GAF places such confidence in the ability of MasterElite contractors, that they will honor your warranty even if your roofing contractor should go out of business.
*Image courtesy of GAF Roofing
Owens Corning Certifications
Owens Corning is another leading roof material manufacturer. They are a large, well-respected company that has made the Forbes 500 list for 68 years – since the inception of the list. They are perhaps most recognized for their pink panther mascot.
We'll discuss their levels of certifications and distinctions below. You can find more information about their warranties here.
Owens Corning Contractor
This designation simply means that the contractor is authorized to sell Owen Corning roofing materials. At this level, Owens Corning does not verify their customer track record or licenses. Nor is this designation associated with any extra training or craftsmanship inspections.
Preferred Contractor
Owens Corning Preferred Contractors must have been in business for at least three years, have no bankruptcies, and be in good standing with customer review sites and the better business bureau. With this certification, roofing contractors are able to offer upgraded warranties – including a 10-year workmanship warranty to their customers – free of charge.
Platinum Contractor
Owens Corning Roofing Platinum Preferred Contractors uphold stringent standards for professionalism, dependability, and craftsmanship. They must have stellar track records among their customers, must pass an installation inspection, and carry all necessary licenses and insurance policies.
Only Owens Corning Platinum Certified Contractors are able to offer the highest-level warranties for your roofing system. This includes a lifetime warranty on any product defects. The workmanship coverage for Owens Corning Platinum Contractors is for the life of the roof, with coverage reduced after 25 years.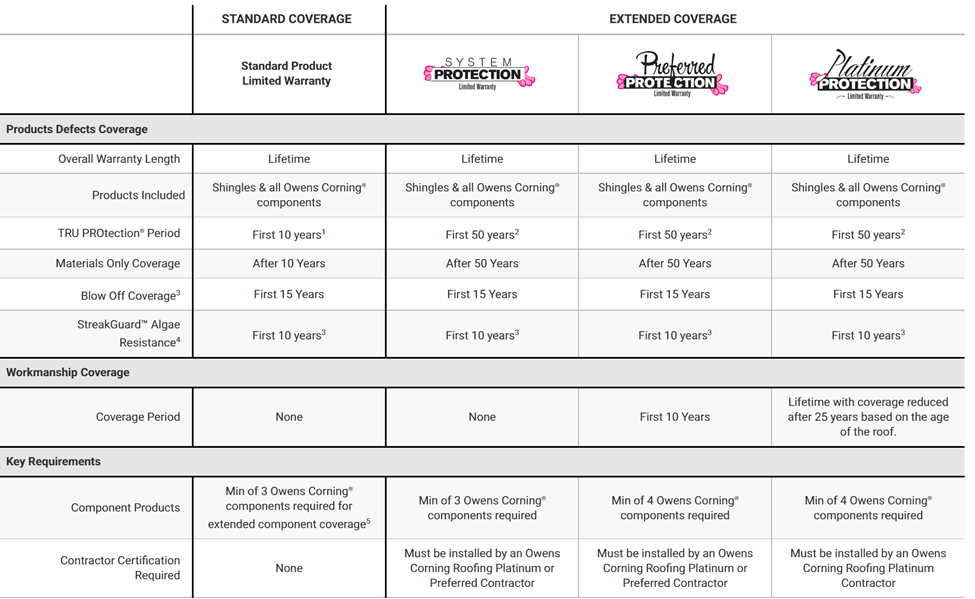 *image courtesy of Owens Corning
Wrapping Up
AIC Roofing and Construction is part of the elite 2% of roofers in North America to hold the GAF MasterElite Certification. We renew this certification every year as part of our commitment to excellence.
We are able to offer our customers peace of mind with industry-leading warranties at no additional cost. Replacing your roof is expensive and can be a stressful process. Rest assured knowing that our expert staff are with you every step of the way – before, during, and after.
We are an earnest, experienced, MasterElite Certified roofer in Lexington, Kentucky. If the time has come to replace your roof, we'd love to see if we would be a good fit for your project. Contact us today to schedule your free estimate!
attics barns chimney choosing a contractor commercial cost curb appeal DIY estimate financing flashing flat roof GAF gutter replacement gutter size gutter system ice dams inspections insurance missing shingles roofing materials roofing system roof leak roof maintenance roof repair roof replacement siding materials siding replacement skylights underlayment ventilation warranty winter