A roof replacement encompasses more than just the shingles on your roof. When it's time to get a new roof, you are replacing your entire roofing system. This includes every aspect of your roof, including ventilation, pipe boots, flashings, and several other components.
At AIC Roofing, we believe it is our responsibility to help educate homeowners and provide you with the information necessary to make a decision that is best for your home. It's important that homeowners understand each component that makes up their roofing system and know exactly what they're paying for during a roof replacement. By the end of this article, you'll learn more about roof decking, when your roof decking needs to be replaced and red flags to look out for with roofing contractors.
What is Roof Decking?
Under the shingles of your roof there are sheets of plywood or OSB sheathing – this is called your roof deck. Think of your roof deck as the foundation of your roof. Your roof deck is a very important piece of your roofing system as your shingles are installed/nailed to your deck. Your roof deck ensures your shingles are able to properly protect your home against UV rays, wind, water and ice.
Redecking is when a contractor replaces your roof deck with new plywood or OSB sheathing. This ensures that shingles can be properly installed and your roofing system operates at its fullest potential.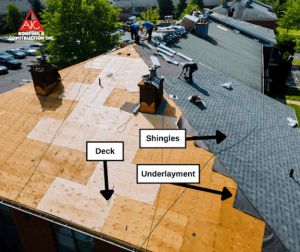 When is Redecking Necessary?
Redecking is not necessary for every roof replacement. If your home is just undergoing its first or second roof replacement it's unlikely that your home would need to replace its roof decking. However, there may be a few boards that need to be replaced, and the older your home, the more you can expect! However, until the old roof has been completely removed, your roofing contractor won't know how much of your roof decking has to be replaced.
Before your roofing contractor can start installing your new roof, the decking must be repaired if they discover any rotten boards. This is done in compliance with all applicable Kentucky state codes and regulations However, if your contractor determines that the integrity of your decking is sound, it can support your new asphalt roof.
Let's examine when redecking is necessary, and how to navigate the process with your contractor.
Redecking will be necessary for your home:
1.
If Your Home is Older and Undergoing its Third, Fourth or Fifth Replacement
Every time a home undergoes a roof replacement, each 4×8 sheet of plywood or OSB sheathing incurs between 115 and 175 nail holes. This means that the sheathing of houses built between the 1960s and the 1980s may have 300 to 500 nail holes per sheet! This roof decking has become too damaged to support new nails for another new roof. This wood is more like swiss cheese than wood! To remedy this, a contractor removes the old plywood or OSB sheets from the roof sheathing and replaces them with new ones. This creates a surface that is smooth and secure for securing roofing material.
2.
Dry Rot is Present
It's simple physics that hot air rises. Improperly vented attics can get very hot during the central Kentucky summer, often surpassing 170 degrees Fahrenheit!
These extremely hot attic temperatures result in a number of issues that compromise the strength and aesthetics of your roof. Mainly, it causes a thinning and warping of the OSB Sheathing or plywood on your roof deck. If an attic space has been improperly ventilated for several years the chances of a full redecking being necessary increase significantly due to the wear of the sheathing. Occasionally, dry rot can be so severe that a roof appears wavy and sagging when looking at it from the street. Even when the ventilation issues are corrected, if the plywood or OSB sheathing is not replaced, the integrity of your roof will be compromised.
Dry rot weakens the plywood and, in some cases, renders the decking completely unusable. We would recommend not only redecking your roof but also ensuring any ventilation issues are resolved – to ensure this issue doesn't happen in the future. Replacing your roof and especially replacing your roof decking should be a rare occurrence.
It's important to understand the different types of ventilation options. Some options may be more expensive, but their performance is so superior it would take fewer of the expensive vents to achieve the same effect, making prices more comparable.
3.
Thin Plywood
Years ago, home builders used thin, 3/8" plywood over 24" rafters. This plywood will start to sag in between the rafters because it is simply too thin to properly hold the weight of the shingles. On these homes, the roof appears wavy. To remedy this, we remove these sheets of plywood and replace them with a thicker board that can accommodate this wider span and ensure your new roof starts out on the right foot. If you believe this case applies to your home – you should contact us today about a free roof inspection.
How Much Does Redecking Cost?
It's difficult to answer how much replacing your roof decking will cost due to the constantly fluctuating price of wood. It also depends on how many sheets of plywood or OSB sheathing need to be replaced. Obviously, the more that needs to be replaced, the more expensive it will be.
During a roof redeck, you'll be paying for the cost of the materials as well as the labor involved with removing the damaged deck, replacing it and disposal.
The cost for redecking cannot be fully determined until your roofing contractor removes your old shingles and is able to properly inspect your roof deck for damage. After this, they can estimate how much material is needed for the replacement.
Red Flags
Prior to hiring a roofing contractor, it's important to ask their opinion on the condition of your existing roof decking. Some roofing contractors may purposely undercut the competition on price by omitting this issue. This leaves you with a faulty roof or a surprise bill at the end of the project.
If severe dry rot is present or if your roof sheathing is too thin to accommodate the width of your rafters – an experienced roofing contractor should be able to express these concerns prior to the start of your roof replacement. If a contractor suggests redecking in the middle of your roof replacement, it's OK to be skeptical, but this doesn't necessarily mean something underhanded is happening- just ask questions. Redecking is a large investment and is critically important to the longevity of your home.
If you are in doubt that your roofing contractor is being honest, ask them for pictures of the damage. In today's world, they should be able to easily showcase any damage they have discovered. At AIC Roofing, if we find an issue that was not obvious during our initial evaluation, we typically show our homeowners photos, so they can best understand what is happening on their roof.
Learn More About Your Roofing System
Roofs are expensive. The consequences of choosing to not re-deck your roof can be severe. If you're installing new shingles on compromised decking – your roof will definitely not reach its full lifespan, and it could visually look bad. If new shingles are nailed into compromised sheathing, your roof may appear wavy and sagging in areas. Neglecting your roof deck also puts your shingles at risk of actually sliding off your roof in severe weather or wind. This would be a disaster after making such a significant investment in your home.
According to the National Association of Realtors Research Group's 2022 Remodeling Impact Report, a roof replacement has a 100% return on investment. That means that typically every dollar you spend on your roof increases the value of your home by the same amount. It's important to treat your most precious asset with the care it deserves!
In order to make sure you're getting a great price on your roof replacement, we also recommend getting multiple bids from top-rated roofing companies in the Central Kentucky area. We outline tips on how to select a reliable contractor and make an apples-to-apples comparison across your roofing bids.
Roof decking is just one of the pieces that make up your entire roofing system. We created our Learning Center and YouTube channel, to help homeowners feel knowledgeable about each part of their roof and help answer important questions about the roofing process.
Final Thoughts
AIC Roofing has replaced over 10,000 roofs in the Lexington, Louisville and Richmond, KY area. We are in the top 2% of roofing contractors in North America that received the GAF Master Elite Certification. Working with a GAF Master Elite certified contractor should give you peace of mind that you're working with an experienced roofer that has undergone rigorous training. Along with our GAF Master Elite certification comes an extended material and craftsmanship warranty. We renew this certification every year as part of our commitment to excellence.
We don't cut corners on your roof replacement and pride ourselves on our best-in-class customer service and experience. If you're preparing for a roof replacement or would like a second opinion – only trust your home to the best. Contact us today for a free estimate on your roof.
attics barns chimney choosing a contractor commercial cost curb appeal DIY estimate financing flashing flat roof GAF gutter replacement gutter size gutter system ice dams inspections insurance missing shingles roofing materials roofing system roof leak roof maintenance roof repair roof replacement siding materials siding replacement skylights underlayment ventilation warranty winter